Dyeing, production planning, recycling – Swedish technological innovation can slash environmental impact in the fashion industry by 80 per cent, in some areas by as much as 98 per cent. But for this to happen these innovations must be deployed across the board. – Now is the moment for the big fashion brands to take responsibility across the entire value chain, says Jonas Larsson from the School of Textiles in Borås.
When asked about the biggest sustainability challenges facing the textile and fashion industry, Jonas Larsson paints a dismal picture: long, complex value chains where different components all blame each other. Billions of garments are discarded or sold off every year due to planned overproduction, and intensive water and energy processing, especially during dyeing and preparation.
Add to that an overconsumption which means that the average European bins between eight and thirteen kilos of textiles every year. In the final analysis, about 80 per cent of all clothes sold are thrown away after a brief lifetime.
– Right now, things are depressing, Jonas Larsson observes.
– On the other hand, this means that there are lots of opportunities for turning everything around.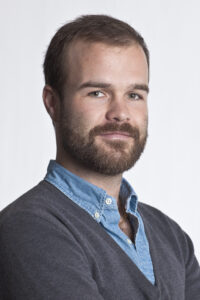 He should know. In his work as a senior lecturer at the School of Textiles, Jonas Larsson focuses on sustainability in the shoe and fashion industry and believes that today commercially viable technology is available that can reduce the fashion industry's environmental impact by around 80 per cent.
– Many Swedish companies across the entire value chain are already sitting on a wide range of solutions.
For example, Imogo, a Swedish company offers new technology for dyeing that reduces the current environmental impact by 95-98 per cent. Other companies have developed computerized models that target production planning.
– Today, lead times are so long that clothing companies order much more than they need from suppliers, to lessen the risk of running short. This means that for every garment sold at full price, another will be discounted or discarded.
On-demand manufacturing might conceivably reduce the overall environmental impact by 30-40 per cent. The problem here is that it takes a long time to implement the new technical solutions that already exist.
– The textile industry cannot just throw out all the old machines in which they have invested huge sums of money, these must first serve out their lifetimes.
But it's not just about time but also the company culture. Jonas Larsson points out that the big brands are also big buyers and could make demands, but they have pretty much abdicated any responsibility.
– Swedish fashion companies are unfortunately bad at investing in the best available environmental technology. They tend to switch suppliers frequently and this means there they have little or no wish to involve themselves in production development. Instead, responsibility is handed over to the suppliers, when in fact cooperation across the entire chain is what is really needed.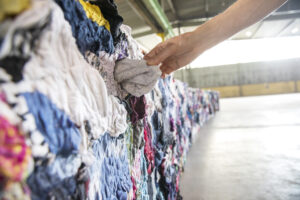 But it is not just production that poses problems for the fashion industry. As consumers buy more than they need and throw away garments as soon as they grow tired of them, the need for the functional recycling of textiles has become critical. For the past two years, a world-unique solution has been in use in Malmö, in collaboration with IVL the recycling company Sysav operates a fully automated sorting plant for consumer textile waste.
– Other facilities are only able to sort the consumer waste fraction manually, and primarily address the second-hand market, explains Anna Vilén, communicator at Sysav.
Siptex, in contrast, deploys machines that utilize infrared light to analyse and identify the fibres the garments are made of, which means that they can be sorted by type, packaged, and sent on for recycling.
– The absence of automatic sorting has been a bottleneck when it comes to textile recycling, but Siptex can provide recycling companies with the purity of material they need in sufficiently large quantities, and this has met with huge interest from around the world.
Siptex has the capacity to sort 4.5 tonnes per hour and is expected to reach a three-shift operation by 2023.
– We have shown that automatic sorting is both possible and profitable and I hope that in this way we can help close many more commercial textile loops in Sweden and Europe.
Text: Karin Aase
---