Swedish companies can now slash several hundred kilograms carbon dioxide emissions per ton from the concrete manufacturing process. New high-tech innovation paired with solutions from the old Roman Empire lies behind this reduction.
Everywhere you turn you find things made with one of the oldest building materials in the world: concrete. Concrete is tough and durable, which means that it can be used in everything from high-rise buildings to railway bridges – but there is a problem: as it is manufactured today concrete generates extremely high carbon dioxide emissions.
– The greatest challenge lies in the production of the cement that acts as a binding agent in the concrete, explains Eric Jacobson, Chief Commercial Officer at SaltX Technology, a Swedish greentech company.
– Concrete mostly consists of gravel, sand and water, but an essential ingredient is Portland cement, a type of adhesive that binds everything together and hardens the mix.
The main ingredient in classic Portland cement is calcinated limestone, hydraulic lime, or calcium oxide, and this is the root of the problem. Partly because extremely high temperatures are required to fire the kilns where the limestone is burned, something that is difficult to achieve without using fossil fuels, and partly because lime contains extremely large amounts of carbon dioxide.
– Half the weight of limestone is carbon dioxide. Burning two tons of limestone gives you one ton of calcium oxide and one ton of carbon dioxide, and when you think about how much concrete and thus cement is used across the world, you realize the extent of the problem!
It wasn't obvious that SaltX Technology would be the one to come up with a solution. The company was involved in developing large-scale energy storage solutions and adopted lime as a dense thermochemical energy storage medium.
– We looked everywhere for a good way to burn lime using electricity because we want to avoid using fossil fuels. Since we were unable to find a good solution externally, we launched an in-house innovation project, and last winter we were given third-party verification that our process is able to produce calcium oxide of industrial quality and can also be used to carry out pre-calcination adapted for cement manufacture.
SaltX Technology burns the lime using an electrified process that captures and packages the unwanted carbon dioxide directly.
– Many other industrial processes capture the carbon dioxide emissions post-combustion, from the flue gas, but this means you are compelled to initiate a completely new process and only trap about 85 per cent of the carbon dioxide. Our process lets you capture all of it, and this is done directly during production, which is more cost-effective.
Our aspiration now is to play our part in a makeover of the 5,000 cement factories that exist in the world today.
– Then we address the source of the problem, redoing it and doing things properly this time. The technology exists, now we just need to convince the industry that it is a good idea to invest in this solution. Because even if it costs money, it is still significantly cheaper than building facilities to capture carbon dioxide post-combustion.
But reducing carbon dioxide emissions from limestone is only one initiative to reduce concrete's climate impact. In another part of Sweden, Gothenburg, the Swedish concrete company Thomas Concrete Group has worked since 2012 to find materials that can completely replace cement.
– In the 2000s I worked in London and saw that this trend was on the rise, observes Ingemar Löfgren, head of research and development at the  Thomas Concrete Group.
Even earlier, the company had experimented with mixing fly ash, a finely divided residue made from the combustion of pulverized coal, into the concrete to improve technical performance, and in 2012 was able to introduce a concrete where part of the cement was replaced with granulated blast furnace slag, something that halved the climate burden.
But slag is only available in limited quantities, which has led Thomas Concrete Group to draw inspiration from the inventors of concrete – the Roman Empire.
– When the Romans started building in concrete, they utilized volcanic ash taken from the city of Pozzuoli. This is a natural material that is constantly being formed, which is why it is extremely interesting.
Today, Thomas Concrete Group is evaluating and further developing concrete based on a large proportion of volcanic ash. Among other things, the company cooperates with Icelandic suppliers, because in Iceland there is not only a large supply of volcanic ash but also plenty of fossil-free geothermal energy to extract and prepare it.
­ A ton of cement today emits between 550 and 900 kilos of carbon dioxide, but a ton of volcanic ash emits between 30 and 60 kilos of carbon dioxide, which means that it has a major difference in regards to climate impact.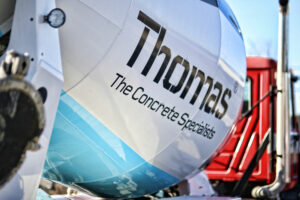 Another advantage of volcanic ash is that it is relatively easy to fit into the regulations and standards that regulate the use of concrete. And even here, on the administrative side, significant savings in carbon dioxide emissions could be made at present.
– In principle, the major Swedish buyers of concrete only currently demand climate-improved concrete. Unfortunately, there is a tendency to use excessive-quality concrete, i.e., concrete with a higher cement content designed to speed up the curing process. If we were able to optimize this mix ratio and apply the right quality in the right place, we could cut between 20 and 30 per cent of carbon dioxide emissions already today.
Text: Karin Aase
---