SurfCleaner breaks ground with their mobile and solar powered solution which is able to eliminate and separate a wide variety of pollutants from water surfaces. With the goal of becoming a global standard, they aim to achieve a €100 million revenue in 2029. The even higher goal is to reduce the negative environmental effects in the longer term. Meet Christina Lundbäck, Founder & CEO of SurfCleaner – winners of the Nordic Cleantech Open 2019.
Hi Christina, describe the SurfCleaner innovation!
– SurfCleaner is a well-proven, energy efficient system that collects and separates pollutants from water surfaces. Easy to install, run and maintain, SurfCleaner currently separates oil, petrol or diesel from the water surface at the location of the spill. The extent of the spill determines how many SurfCleaner units are required. Our technology is based on gravimetric separation, collecting both the carrier fluid and the top layer substance – allowing up to 100% separation of the top layer substance, and a separation capacity of 8,000 liters/h. Most of our customers have installed the SurfCleaner in an API basin, claiming that SurfCleaner is far more efficient and cost effective than other skimmers and separators.

How was the development process initiated?
– My father, the late Stig Lundbäck (MD) discovered 1986 how the heart performs its pumping and auto-regulating functions – a previously unknown pump technology DAPP (Dynamic Adaptive Piston Pump). Stig was later asked if his pump technology could remove oil from the water surface after a spill accident. This resulted in the first prototype and patents – and the company SurfCleaner was created 1994. Today there are more than 30 products installed at customer sites. For example: Preem, Circle K, Esso, ExxonMobil, Midroc, Ports of Stockholm, The Swedish coast guard and many more.
Who is your target customer?
– Today our target customers are refineries, oil harbours, oil depots, industries and cost guards – organizations that face challenges with oil contamination.
Which are your export markets? What other markets would you like to enter?
– We are currently active on oil contamination markets in Scandinavia and the EU but will expand globally in the next coming years. In the future we will enter wastewater treatment markets and ocean surface debris (mainly plastic litter) markets globally.
What made you focus on those specific markets and how did you approach them?
– We have a perfect track record on the oil contamination market, we only need to be more visible and make our unique technology known. We are currently addressing this market through digital marketing, trade shows and direct sales. Later this year we will start approaching the wastewater treatment market in Scandinavia/EU, and in 2020 we will have a solution ready for the ocean surface debris markets around the world.
Why should an investor choose your company?
– We are (and will) commercializing our solutions on three +1 Bn USD market segments, all suffering from substantial issues with pollutants floating on water surfaces:
The oil contamination market, managing oil spills in industrial processes as well as oil spills from accidents at sea, where separating oil from water today is a costly and complicated process.
The wastewater treatment market, e. in wastewater treatment plants where sludge and foam is a problem in several steps of the industrial process, are today inefficiently managed manually or with chemical treatment.
The ocean surface debris (plastics) removal market, SurfCleaner can collect, separate and dispose of surface debris in rivers, ports and beaches, by collecting debris close to its source in a way that alternative solutions cannot do today. This is one piece of the puzzle to solve the plastic problems in oceans, where SurfCleaner can stop the inflow of plastic from e.g. rivers.
So there is a huge growth potential for SurfCleaner!

What is your long-term vision? How will your company develop, looking ten years ahead?
– Our vision is that SurfCleaner is available to everyone, everywhere, so that we can all take responsibility for a sustainable future. Together, we can ensure that oil, petrol, and diesel are removed faster, before toxic gases are formed, before birds, animals and marine life are affected, before our water becomes unfit. Our cooperation with the oil industry, water and wastewater companies, coast guard, non-profit organizations and other ocean cleaning initiatives around the world enables us to help clean up oil spills and littering – reducing negative environmental effects in the longer term.
– We hope that we are represented all over the planet, and that our solutions are the "standard" in the markets that we are active in. Our business plan is aiming for a revenue of €15 million in 2022, so in ten years, we will hopefully have a revenue of more than €100 million.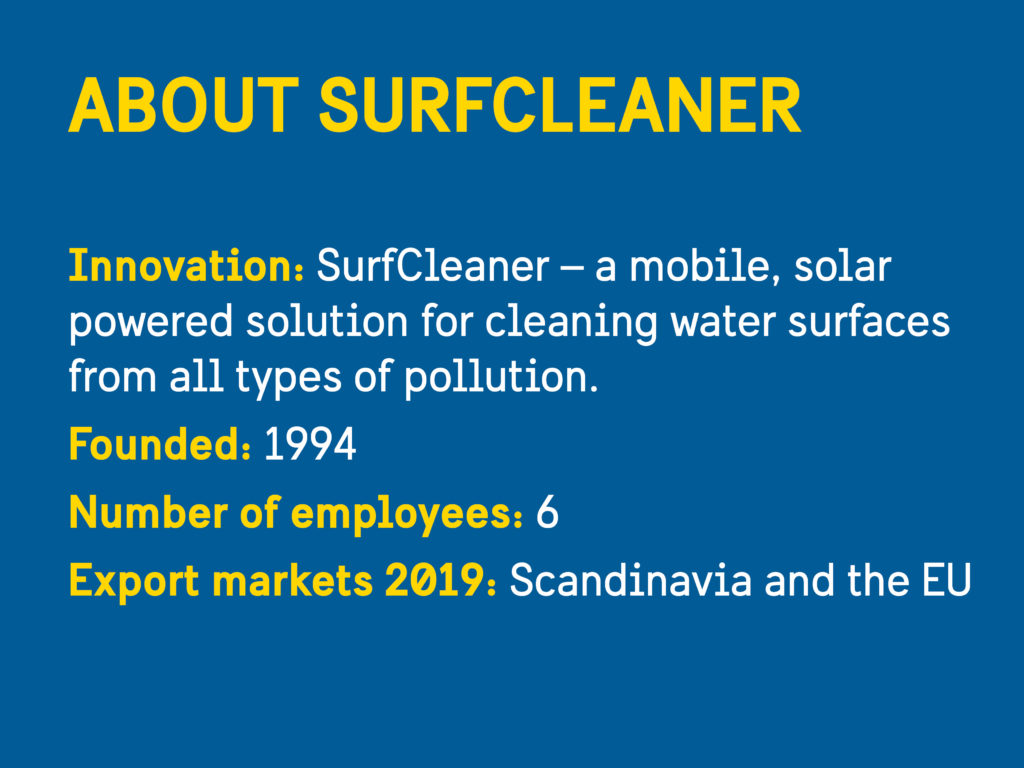 SurfCleaner's profile page at swedishcleantech.com
SurfCleaner's website
Written by: Hanna Näslund
---