Imagine a world where you can shop sustainably because the new clothes you buy used to be another piece of clothing. The Swedish company Renewcell has created a product that enables just that. The company's goal is to recycle 1,4 billion t-shirts per year by 2030.
Our consumption puts pressure on the earth's resources, contributes to plastic pollution, CO2 emissions and chemical use and has a negative impact on water supplies and land.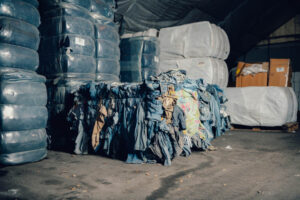 Millions of tonnes of textile waste are produced worldwide every year, and according to statistics from EPRS and EEA, that means 0.5 million tonnes of microplastics are released into the ocean every year.
This needs to change. The Swedish textile recycling company Renewcell has found a solution to decrease the negative impact of the clothing industry on the planet. They have created the product Circulose®, made out of 100 % textile waste.
How it works
Renewcell takes used clothes made out of cotton or viscose. After the textile has been shredded and de-coloured, it is turned into a slurry. When the slurry is cleared of contaminants and other non-cellulosic content, it is dried to produce the Circulose® product.
The sheets of Circulose® are finally packaged into bales and fed back into the textile production value chain as a biobased equal-quality replacement for virgin materials like cotton, oil and wood.
Learn more about Renewcell by watching the film:
---