The "Altered nozzle" became a huge success on Kickstarter.com in 2016. Only three years later the company is established in the US, India, Central Europe and the Middle East. With unique and smart solutions for taps and showers, Altered Company aims to redefine people's view of water saving and water cleaning. The recipe is simplicity and innovation expertise. Meet Altered's designer Mikael Abbhagen, first out in our interview series on Swedish cleantech companies.
 Hi Mikael, please describe your innovation!
Altered Company's original product is a retro fit nozzle, an aerator for replacement on your existing tap. It allows you to atomize the water and blow it up into millions of drops, instead of the regular, laminar flow. This mist technology increases the area of the water and saves up to 98% of it – and your hands get clean! The uniqueness of our solution is that the nozzle also has a normal spray mode, to avoid interference in your everyday life. Simplicity is the key to success.
In 2019 we also launch a complete tap and a water saving shower head. Showers are strongly linked to our idea of wellbeing, and it's a challenge to use less water. We have an interesting solution that differs from the mist technology and allows you to save water without losing the comfortable feeling of flowing water rinsing over you.
How was the development process initiated, and what makes your product successful?
We made a product out of something that you neither see nor think about on a daily basis, since the aerator is normally built into the faucet. We changed the properties of water on tap and created a clean and accessible consumer product. It was spread through a very successful Kickstarter campaign. Since our co-founder Kaj Mickos is a Professor of Innovation Technology, we managed to efficiently enter the market with our product. Kaj's idea is to work independently and use your existing network without the need for expensive agencies or external parties.
Who are your customers?
Our main target group is the private consumer and the hospitality business. Hotels and restaurants are using large amounts of water, and often at a high price. They are motivated to save energy due to both CSR-related and economic reasons, and with our product they get a decisive effect in just a short time. One example is this hotel in Mecca, where water consumption was high despite the well-known water shortage in that region. Our nozzle gave them return on investment within a month. We are currently doing a similar pilot test with Nordic Choice.
Which are your export markets? What other markets would you like to enter?
Our main markets are India, US and the United Arab Emirates, where we currently have a local distributor. We are present in several other markets in the Middle East (Saudi Arabia, Qatar, Kuwait, Oman) and Europe (Holland, Germany, France and the UK). We started globally, but have focused back on Scandinavia, where we recently employed a Regional Sales Manager.
We have defined our focus markets, but we just scratched the surface on these. We established the contacts that can help us understand the markets. But not until now, when we know what distribution model that is most efficient on each market, we can start our journey for real.
What made you focus on those specific markets and how did you approach them?
The US market was a first priority, due to the industrial profile and the size of the country. Or actually, we soon realized that the 50 states should be counted as separate countries. We focused on the West Coast, as California is one of the world's largest economies. In the US, we have agent agreements and support through Business Sweden, with different arrangements for different regions. We get a fantastic reception, and it is fascinating to see how strong the brand "Sweden" is – something our ancestors built for centuries.
Our entry in the Middle east, with a focus on UAE, was a bit bumpier. It took us a year to get a local distributor in place. There was no lack of inquiries though. We were contacted by several emirate families, and one of them put their CEO on a plane to Stockholm with short notice. That was an ambitious gesture from our point of view. What we have learned so far is that networking is the key to all kinds of business – which confirms the importance of a local partner.
Why should an investor choose your company?
Our USP is a unique water saving solution which can be implemented throughout the world. A global product that efficiently reduces energy and water consumption in a simple way, without compromising on the product's function. In energy efficiency we often see long lead times of 10-15 years. Solar panels for example, which are still problematic in terms of profitability. With Altered's product you get close to immediate ROI on your investment, while making an effort for the environment. We recently received a prize from WWF, as one of the companies with potential to have the largest effect on carbon dioxide emissions. Since a big part of the energy consumption is linked to water. We have potential to make a huge difference in 3-4 years.
What is your long-term vision? How will your company develop, looking ten years ahead?  
Our goal is to be a global key player in the "tap and shower" industry. We want to redefine people's idea of water saving, through a minimum behavioural change. A technology shift rather than a change in your habits. Our second vision includes water purification, where we possibly launch a product already this year. It's a super exciting area, where our water saving technology gives us unique possibilities to handle the problem from a new angle. Water supply and quality problems are the major global challenges within the water sector today. Altered is already a global actor, but we need more power in order to make a real difference.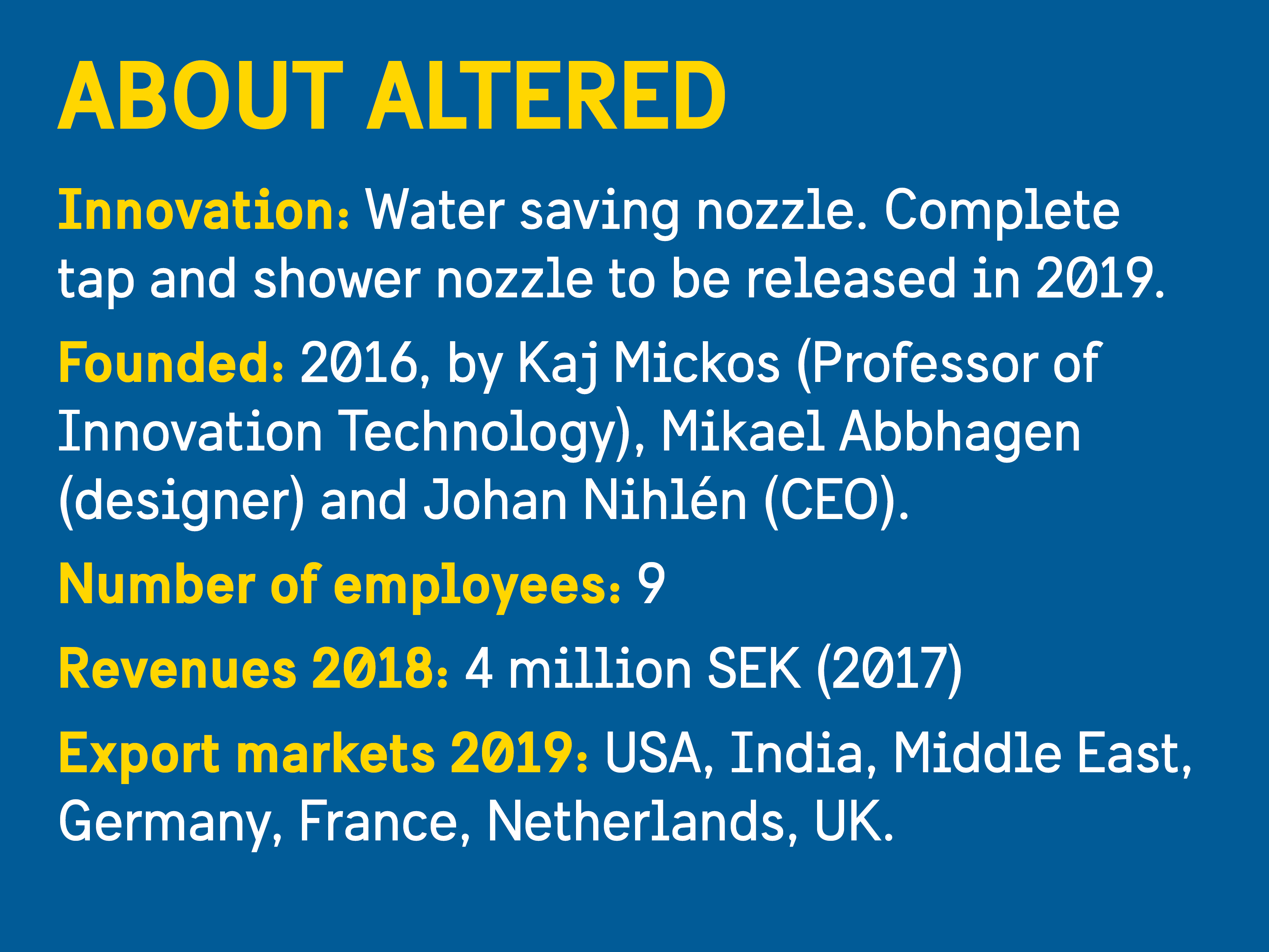 Here is the profile page for Altered at swedishcleantech.com.
Altered's website: www.alteredcompany.com
Written by: Hanna Näslund
---