Working with heavy-duty truck engines made Einride's CEO Roberth Falck realize the environmental impact of the transportation business. He quit his job and started his own company, with the vision of making road freight transportation more sustainable, safe and cost-efficient. By taking advantage of cutting-edge technology and big data, Einride's system is already disrupting the transportation industry. Their future goal is to power fleets of autonomous, electric trucks on the road.
Hi Robert, describe your innovation!
– Einride is the intelligent movement company – developing sustainable, safe and cost-efficient road freight transportation solutions, and providing them as a service to forward looking, transport-intensive companies. By taking advantage of cutting-edge technology and big data, by challenging conventional thinking, and by inspiring people to take responsibility for the planet and each other, Einride is already disrupting the transportation industry.
How was the development process initiated?
– I used to work for one of the large OEMs, where I was responsible for the production of heavy-duty truck engines. With time I became increasingly concerned about the environmental impact of what I was doing. Diesel engines are responsible for a significant part of global CO2 emissions, and I knew technology had progressed to make electrically powered road freight possible. In short: remove the driver's cab, replace the driver with a combo of self-driving and remote control – and battery management is not a big problem anymore. Quite the contrary, apart from lower emissions, you'll get a lot of benefits from a solution like that in terms of increased efficiency, reduced cost, etc. But these ideas proved a bit too radical, and sometimes change has to be disruptive. So, I left and started my own company.

Who is your target customer?
– Companies with transportation needs, for example retail companies, forestry and manufacturing.
Which are your export markets? What other markets would you like to enter?
– We are a global company. Right now Europe and US are prioritized markets.
What made you focus on those specific markets and how did you approach them?
– Both Europe and US are road freight transport intensive markets and there is a lot of interest among businesses in those markets to address the challenges of road freight transport, to make it more sustainable, efficient and safe. We are for example working with logistics company DB Schenker and retailer Lidl Sweden to implement our solution. We have also signed contracts with five Fortune 500 companies in the US.
Why should an investor choose your company?
– Road freight transport stands for about 7 % of global CO2 emissions. We can drastically reduce those emissions while lowering operating costs for road freight by around 60 %. And we can improve road safety, by introducing autonomous vehicles. Its sustainable, cost-efficient and safe. And we have the technology and customer traction to make it happen. As I mentioned before, we are right now implementing our solution at DB Schenker's site in Jönköping, Sweden, where we have also obtained a permit from the Swedish Transport Agency to run on public road.
What is your long-term vision? How will your company develop, looking ten years ahead
– Einride will lead the transformation to sustainable transportation solutions. You will see fleets of autonomous, electric trucks on the road, powered by Einride's autonomous, electric transportation system. A new ecosystem of companies and new categories of jobs will have emerged around this system, for example operators that monitor, and if necessary remote control, autonomous vehicles.
World premiere: First cab-less and autonomous, fully electric truck in commercial operations on public road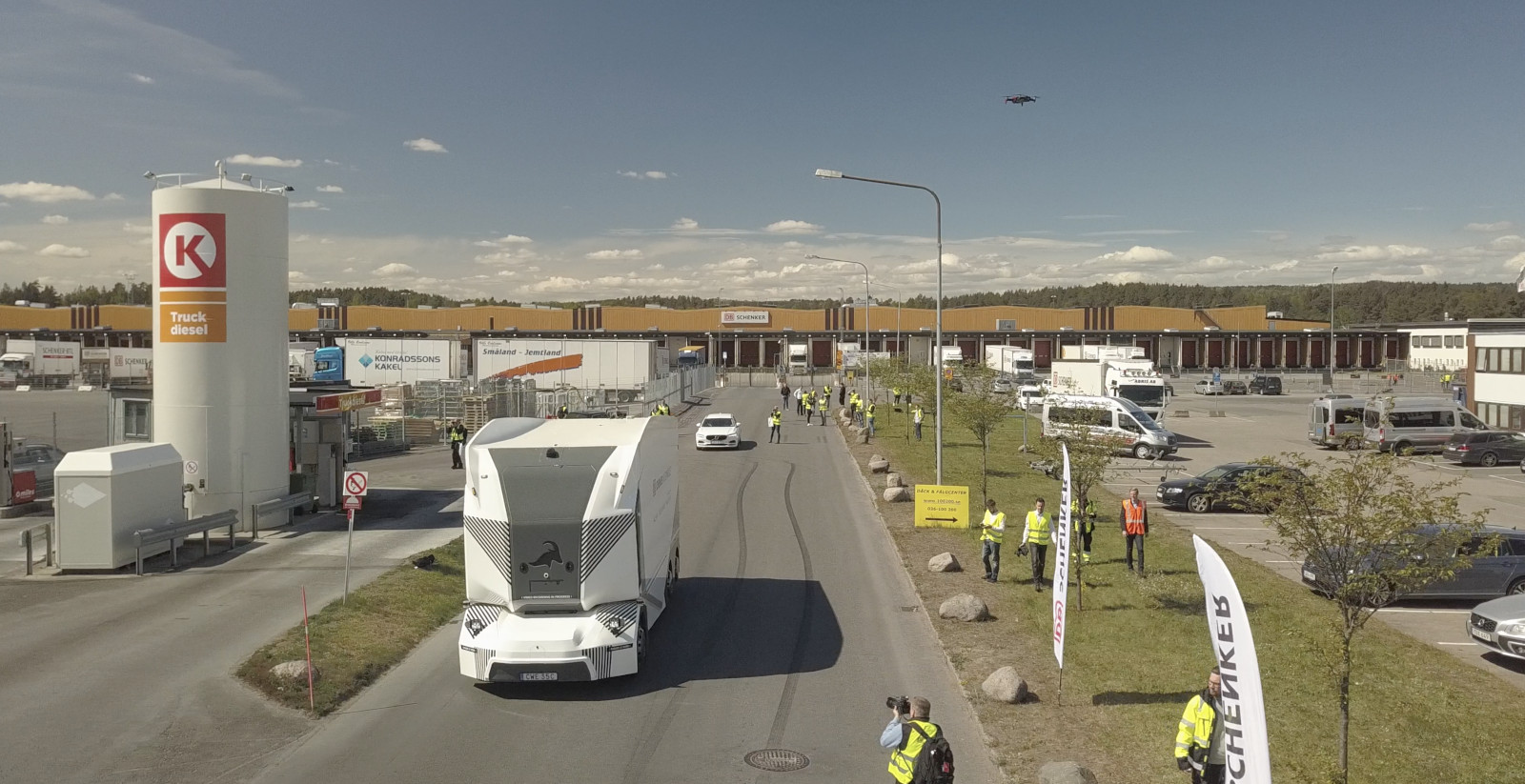 15th May was a historic occasion. The first cab-less, electric truck – Einride's T-pod – drove on a public road. The world premiere and inaugural run took place at DB Schenker's facility in Jönköping, Sweden. The T-pod will transport goods between a warehouse and terminal at the facility, as part of a commercial flow.
Robert Falck, founder and CEO of Einride, Jochen Thewes, CEO of DB Schenker, and Mats Grundius, CEO of DB Schenker Cluster Sweden, Denmark, Iceland hosted the inauguration ceremony.
Read the full press release.
Visit Einride's website here.
Written by: Hanna Näslund
---