It all started with a drone and a passion for plantation. Today, the goal is to be the infrastructure for the entire worlds' precision agriculture effort. Something that is most likely doable with the powerful product nitrogen prescription – that can reduce fertilizers by 30 %. Meet Robert Schmitt, founder and CEO of Vultus.
Hi Robert, describe your innovation!
– Vultus is enabling waste-free farming by using satellite data to give farmers actionable data about the nutrient need and varying conditions within the field. The main product is nitrogen prescription, which can reduce fertilizers by 30% and increase yields. The product includes an API, that connects with other Farm Management Platforms as a distribution partner. Through our four existing partnerships, we are reaching 9.5 million hectares across Europe and Asia.
How was the development process initiated?
– It all started with a drone and a passion for plantation. During my studies, I went to some farmers and explored if they could have any use of drone imagery. This was when I realize the scope and scale of the agricultural challenges and the potential of improving this industry. Thereafter, we tried developing a drone business model but quickly realized satellite data was the future. That was almost three years ago, and since then we have been in the development of our analytics, processing engine and API services to support precision agriculture.
Who is your target customer?
– We seek to provide valuable data to farmers of all sizes, though our recommendations are most useful for medium and larger farms. The reason is that they have the knowledge to use them fully, as well as a more business-oriented mindset. However, of the 9.5 million hectares we reach out to, it is a big combination of farm types.
Which are your export markets? What other markets would you like to enter?
– Almost all our work is beyond Sweden. Main markets in Europe include France, the UK, Germany and most of East Europe. In Asia, we target China, Pakistan and are entering India and Indonesia. We are currently focused on the Asian markets and Australia during the down-season in Europe. Eventually, we want to operate in all markets and the Americas will be a target for next year.
What made you focus on those specific markets and how did you approach them?
– Much of our team is from those markets. We need geographical variety to not be stuck in seasonal trends. Our crop focus is on wheat, barley, canola, corn and potato, which is widely grown in all the mentioned regions.
Why should an investor choose your company?
– We recently closed an investment round with Norrsken, Almi Invest and some top angels, so we are actually not fundraising at the moment. However, I think for our next round we want investors to join who share our vision of transforming farming to precision agriculture and want to support us in our global mission to eliminate waste in farming.
What is your long-term vision? How will your company develop, looking ten years ahead?
– The goal is for our technology to be the infrastructure for the entire worlds' precision agriculture effort. This means we must work with all types of actors in the supply chain, develop services for all major agricultural inputs, crops and regions. We think with our business model, we can become a standard functionality, that enables any farmer, anywhere, to farm with maximum precision.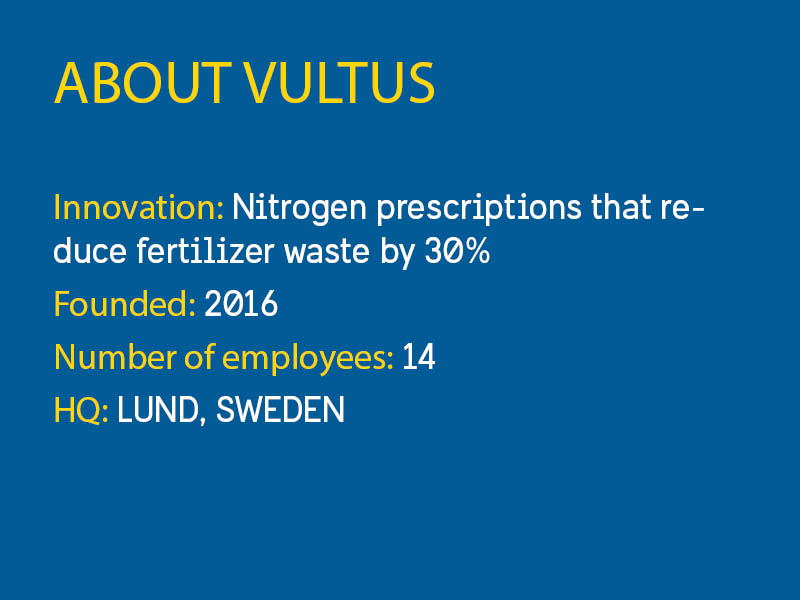 Visit Vultus' website
Written by: Hanna Näslund
---