The 24th-26th of September, Nordic Edge Expo is taking place in Stavanger, Norway. The conference is the largest Smart City event in the Nordics and looks at all aspects of what a smart city entails.
This is the fifth edition of the conference and the theme this year is Life actually, where the focus is on technology as an enabler for change.
Swedish Cleantech is the Swedish export platform for cleantech solutions. At Swedishcleantech.com, decision-makers from all over the world with an interest in Swedish solutions can browse among more than a thousand Swedish cleantech companies and find business opportunities.
We are excited and proud to represent Sweden in the Nordic square at Nordic Edge Expo, together with the three organisations Smart City Sweden, Urban ICT Arena and H22.
Come meet us and discuss Swedish cleantech solutions at the Nordic square!
More about Nordic Edge Expo: nordicedgeexpo.org
Smart City Sweden – Smart City Sweden works to initiate cooperation between Sweden and other countries within smart and sustainable city solutions. At six regional offices around Sweden, Smart City Sweden welcomes international delegations with an interest in implementing Swedish solutions in their local context.
Urban ICT Arena – Based in Kista, one of the leading ICT Clusters in the world, Urban ICT Arena works to develop cities, boost innovation and secure future jobs.
H22 – In 2022, city expo H22 – A smarter city, will be held in the city of Helsingborg, Sweden. In the years leading up to the expo, Helsingborg provides a unique opportunity to initiate and test new ideas and collaborations making a smarter city.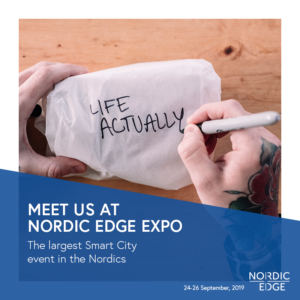 ---